Upcoming Shows!
March 17, 2013 - Woodruff's, Ypsilanti. Opening for The Ragbirds for their album release. Free show! St. Patrick's Day! Exclamation points! 7pm.

April 19, 2013 - Macs, Lansing. With Cash O'Riley and the Downright Daddies opening for the legendary Eight Ball Grifter $10, 18+, 9pm.


About Flatfoot
Flatfoot was formed in East Lansing during the fall of 2000 by Tom McCartan and brothers Aaron and Jason Bales. We play rock and roll with some twang, pop sensibilities and punk energy.
Albums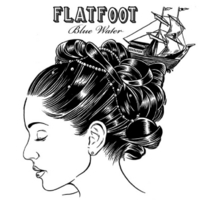 Our newest release, Blue Water, is currently available as a CD or vinyl LP with a web address for downloadable high-quality MP3s in the liner notes. Craig Horky did the artwork. Click the cover image on the left to purchase the CD online through our Bandcamp site.
You can see all the Flatfoot albums here
Listen
Check out some of the tracks, along with songs from previous albums.
Dirt Shirt
Buffalo Creek
Sparks
Blueblood (from "Wild Was Our Mercy")
Don't Leave Queens (from "Wild Was Our Mercy")
Grandaddy (from "Track's End")
Fire (2am) (from "Track's End")

Press Kit
Our press kit is a three page PDF document, including the band biography, gigography, and hi-res photo.